New DineSafe app helps diners watch where they eat
A locally developed app provides the inspection history of nearby restaurants on your smartphone. So: do you really want to know what happened at that seedy café In 2011?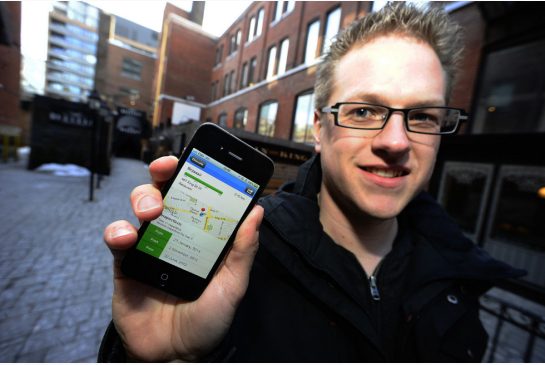 Does the pork taste funny? Mice scurrying around underfoot during dinner? Does your waiter have that shifty look?
Thanks to an app developed by Toronto's Matt Ruten, you can check up on the history of your favourite restaurants from the comfort (or discomfort) of your seat.
The new app promises to take some of the risk and mystery out of dining in Toronto by making DineSafe inspections available on your iPhone.
Simply called DineSafe Toronto, the application harnesses the City of Toronto's Open Data system to get the information.
"The main thing is having it in your pocket and a super-simple interface. You just open it up and it shows you stuff that's near you at the moment," said Ruten, a 27-year-old web developer who built the app in his spare time.
Even if a restaurant has passed recent inspections, posted signage only details the last two at most. Hints of a checkered past are available through the city's website.
Ruten is charging $0.99 for the app in hopes of recovering some server costs, but isn't expecting it to be a big moneymaker.
The app has a simple interface that presents a list of restaurants nearby, along with their distance, and a series of icons detailing the eatery's inspection history. All green means a clean history of inspections. Yellow and red indicate warnings or even closures.
The City of Toronto implemented the DineSafe public notice system in 2001, after a Toronto Star investigation titled "Dirty Dining" shed light on the once-private inspection process. In 2009, the city revealed that foodborne illnesses had dropped 30 per cent since its implementation.
Ruten, like several other developers, was inspired by trawling through the city's Open Data registry, which provides free city data for developers to manipulate like this.
"The more that people are able to use the open data that's on our catalogue and create apps that help residents and make it easier for them to use these services, the better," said Trish Garner, a manager with the initiative.
Popular Photo Galleries
News | Toronto Star

News | Toronto Star

News | Toronto Star